One day / two days tour while you stay in Addis Ababa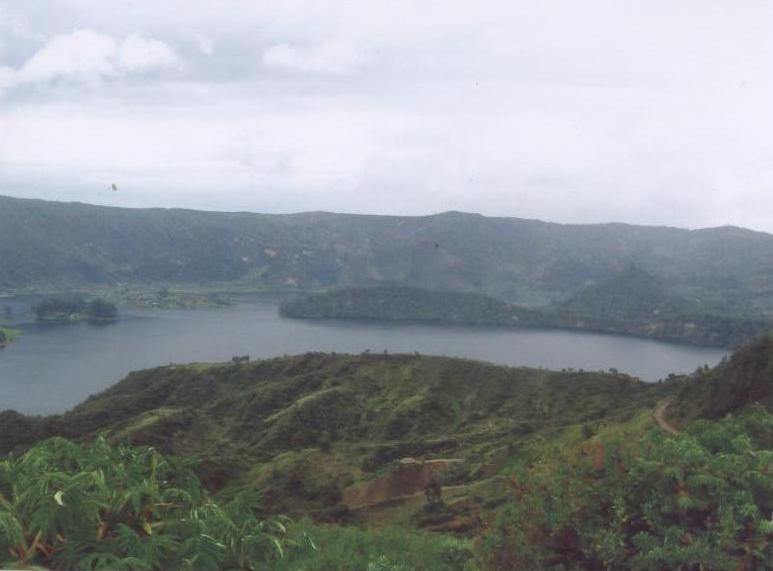 Wonchi Crater Lake
Short tours of one to three days
duration before leaving Ethiopia
these tours are all land journeys, but it is possible to visit one of the places by Air on the historic route-Axum, Lalibela, Gondar and Bahidar, flying out one day from Addis Ababa and returning back on the second day

.
Marvelous 01:

Half day city tour of Addis Ababa


Mount Entoto: It is 3200 meters above sea level, having panoramic view of the capital and the surrounding area.
In 1881 Emperor Menelike II made his first capital here.
Entoto was abandoned as a site for capital since it was cold, difficult to fetch water up and there was a shortage of wood. Empress Taitu, the wife of Menelik II, gave the name Addis Abba, or new flower. Menelik II, imperial compound on Entoto, the church of Saint Marry , and the smaller museum are worth to be visited.
National Museum:The National Museum which is knows for its pale ontological and archeological collection dating back over millions of years houses the famous origin of human kind "Lucy or Dinknesh 3.4 million years old" remains. Other fossils and stone tools are also present in the exhibit. The archeology section displays findings from the pre-Axumite period up to contemporary times. Ethiopian cultural, traditional and ceremonial costumes are on display as well as the throne of Emperor Haile Selassie and other traditional ornaments.
Trinity Cathedral: a beautiful church with a basilica style of European architecture.
It is dedicated to Holly trinity, here you will find stained glass windows paintings from the old and new testament in the bible and coffins of Emperor Haile Selassie I; the founder of the church, and his wife.

Marvelous 02,

One day city tour of Addis Ababa
National Museum: The National Museum which is known for its paleontological and archeological collection dating back over millions of years houses the famous origin of human kind "Lucy or Dinknesh 3.4 million years old" remains. Other fossils and stone tools are also present in the exhibit. The archeology section displays findings from the pre-Axumite period up to contemporary times. Ethiopian cultural, traditional and ceremonial costumes are on display as well as the throne of Emperor Haile Selassie and other traditional ornaments
Ethnographic museum: Here you can see artifacts, house hold utensils, paintings which reflect church history, crosses, and culture of the country. Since it was palace of Emperor Haile Selassie his bedroom and bath room can be visited.
Merkato: The largest market in Africa , possibly every commodity is on sale.
Bata (Saint Marry church): Where Menelik's Mausoleum, Etege Taitu and Queen Zawditu are buried.
Trinity Cathedral: a beautiful church with a basilica style of European architecture.
It is dedicated to Holly trinity, here you will find stained glass windows paintings from the old and new testament in the bible and coffins of Emperor Haile Selassie I; the founder of the church, and his wife.
Mount Entoto: It is 3200 meters above sea level, having panoramic view of the capital and the surrounding area.
In 1881 Emperor Menelike II made his first capital here.
Entoto was abandoned as a site for capital since it was cold, difficult to fetch water up and there was a shortage of wood. Empress Taitu, the wife of Menelik II, gave the name Addis Abba, or new flower. Menelik II, imperial compound on Entoto, the church of Saint Marry , and the smaller museum are worth to be visited
Marvelous 03, Debre Libanos and the Jemma river for one day / two days
Debre Libanos: An important monastic center of Ethiopian Orthodox Church. It was set up in the 13th century by Saint Tekle Haimanot, he is said to have prayed for seven years, on one leg. On this tour, you can visit one of Ethiopian's endemic mammals, the Gelada/ bleeding heart baboon. There are also different birds when you go down to the valley. You can have view of the surrounding country side. It is possible to stay one over night here/ return back to Addis on the same day.
Marvelous 04, Menagesha Forest , one day tours
It is found about 50 km from Addis Ababa .
You can visit different birds like wattled Ibis, Crowned eagle, Banded barbet, Yellow fronted parrot, Abyssinian cat bird, black winged cat bird etc. Wild life, you can find, Menelik's Rush buck, Columbus monkey, Duiker, warthog, Porcupine
Marvelous 05, Melka Kunture, Adadi Mariam and Tiya (one day tour)
Melka kunture lies near the Awash river Gorge is one of the archeological sites in Ethiopia.
About 5kms further from it, you can find the rock hewn Church of Adadi Mariam it is said to have built by king Lalibela on his visit to mount Zequala.Tiya: Classified by UNSCO as world heritage site standing engraved stele which stretch across parts southern Ethiopia , believed to have been erected between the 12th and the 14th centuries. They are grave markers.

Marvelous 06, Ambo and wonchi crater lake (2 days tour)
Ambo is found at 126 kilometers from Addis, after 32 kilometer to the south west of Ambo, you can find Wonchi, which is a crater lake.
The Lake covers an area of 560 hectares. The highest peak around the lake is 2900 meters high. The area has dramatically beautiful. You can find aquatic birds, Columbus monkeys. A small monastery on the Island , saint Kirkos church said to have been built by emperor Zarayakob in the 15th century.
Marvelous 07, Sodere hot spring (one/ two days tour)
It lies at the bank of Awash River , where volcanic spring water gush out.
You can visit numerous birds, crocodiles, monkeys, hippos. Because of therapeutic effect of the spring water and warm climate, it is popular by weekenders.
Marvelous 08, Awash national park (2 days tour)
Has an area of 827 square kilometers. Has larger concentration of wild life; Oryx, gazelle, greater and lesser Kudu, baboons, warthog, crocodiles etc.
It has many species of birds; the thunderous water fall of Awash that smokes as it falls over basalt in the gigantic falls, the hot springs surrounded by the palm trees etc.
Marvelous 09, Lake Abijata-Shalla and lake Langano (2 days tour)
These lakes are rift valley lakes, and on the way you can also visit Lake Zeway .
Here you can visit birds of different kinds. Near by head quarter of Abijata-Shalla, you can see Ostrich. From wild life; warthog, gazelle and jackals are some of the mammals which are commonly seen in the park. Along the shores of Lake Lango , you can visit different species of birds and it is popular for water sports; Lake Langano is a base to visit other sites since there are resort hotels.
Marvelous 10, Wondo Genet (2 days tour)
On the way from Addis Ababa to Wondo Genet, you can visit different rift valley lakes like Zeway, Abijata-Shalla which are habitates of differsnt birds.
In Wondo Genet, near by the hotel, on the hill, it is good to take walk for its scenery, birds, and monkeys. The hotel is good to relax as it is surrounded by nature.
On the second day, you can drive further to Awassa town, to visit the lake, the fish market, birds along the shores of Lake Awassa . In the after noon return back to Addis.